Mon 14 Jul 2008
It has been a few years since it happened and I didn't really expected it, since I was told there was a good chance it might never happen again, but it did – my favorite pair of golf shoes leaked over the weekend!
Now for all of you reading this that live in the land of the sun, let me try and explain. No, I don't store fluids in my shoes, nor are my feet extremely sweaty, I just live in the Pacific Northwest where it rains a lot. A good portion of my rounds are either played in the rain or on a course that has a fair amount of standing water, so waterproof golf shoes are a must have.
So was I surprised they leaked? A little. I mean I have had my fair share of shoes go bad -
'94 Dexter DrySports – Both soles came completely off. I later found out that the DrySports were one of the few Dexter golf shoes made in the US, the EPA told them to use a less toxic adhesive, so they ended up using a 'water based glue'. Oh the insanity!
Nike Air – All of my Nike shoes with the air support bubble in the heel have deflated. I know I am a big guy but……
Mizuno Permanent Spikes – No need to ever change them, spikes never wore out, absolutely loved them, until a couple broke off. Side note, soft spikes killed those shoes.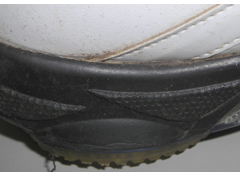 My shoes that leaked last weekend were FootJoy DryJoys. I have probably owned 10 pair of FootJoys over the years and have never had any issues, so did FootJoy make a faulty pair of shoes? Not necessarily. Shoes still need a little personal maintenance to help keep them from leaking, and one of the worst offenders to their waterproof seal is grass fertilizer. Fertilizer eats away at the glue that keeps the sole and leather upper together, allowing water to penetrate into the uppers membrane, causing your feet to get wet. A way to prevent this is simply to take an old tooth brush and scrub water along the area where the sole meets the upper after every round, which helps breakdown the strength of the fertilizer, prolonging the life of your shoe.
So in this case, it looks like it was a defective shoe. FootJoy has a great comfort and waterproof guarantee, so no worries about getting them replaced.
And before I get a bunch of responses, yes, I do own a pair of rubber golf boots. I'll make sure to wear those next time.
---
No Responses to " Why Do Waterproof Golf Shoes Leak? "
Comments:
Leave a Reply